CROWD estate is started prebooking period for "Aeru 9/11, Tartu 51017 (III)" opportunity. During this period you can make one investment in the preferred amount. The final investment amount will be determined by the number of prebooking investors.
If the opportunity is not fully funded during this period, the opportunity will open on 27.04.2019 11:00 EEST for investments.
Sponsor: Westwood Invest OÜ
Boardmembers:
Enn Mullamaa
Jaak Sarapuu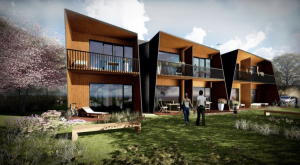 There are several good reasons to participate in funding "Aeru 9/11, Tartu 51017 (III)" investment opportunity:
Highly valued and exclusive location
Additionally to first lien mortgage, loans are secured by personal assurance
Quarterly interest payments
Short, up to 8 month investment period
Internal rate of return (IRR) 11,40%
60% of the development is completed
Significant equity contribution by Sponsor
Risk exposure of the project is EUR 536 per square meter
33% of apartments are sold or booked
Total investment amount available for Crowdestate's investors is 170000 €.
Investment horizon is 8 months.
Expected annual return is 11.4%.
---